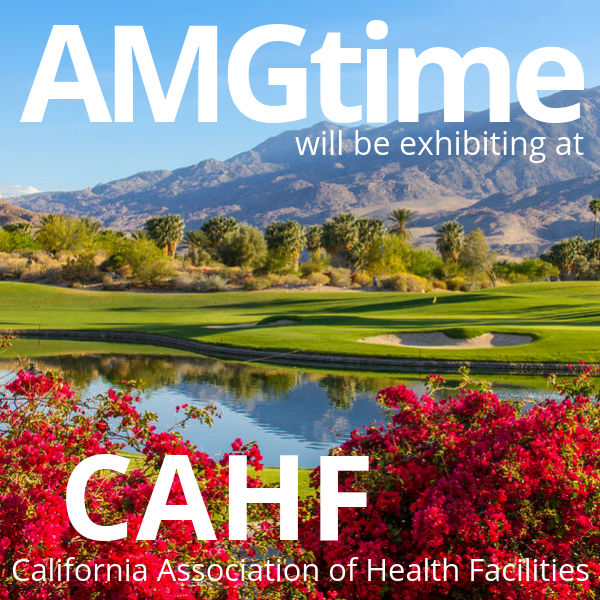 Are you ready for the 68th Annual CAHF Convention and Expo? AMGtime is ecstatic to see everyone in booth #613 from November 12-13th. Considering how fun it was last year, we're going to be a flamingo booth again, come by for a chance to win the grand prize! AMGtime will also be conducting a drawing for a $100 Amazon gift card. Make sure to drop off your business card.
Here's what we are excited for:
1. Showcasing all things AMGtime!
AMGtime provides several solutions for the healthcare industry. AMGtime's offerings such as Workforce Scheduling, Job/Department Costing, and more address the common needs of healthcare labor management. Workforce Scheduling includes options to auto-schedule according to set preferences, allow employers to assign skills, training and/or certification for individual jobs, and allow employees to swamp, drop or pickup shifts, just to name a few. Job/department costing allows management to apply different wages for employees that may have different jobs within a shift.
As many of you know, AMGtime has also developed a specialized solution for skilled nursing facilities. The Skilled Nursing Facility module automatically calculates the Nursing Hours Per Patient Day (NHPPD) ratio in real time and generates reports according to PBJ specifications as well as many other relevant reports. We've recently updated the module to monitor Certified Nursing Assistant (CNA) hours to be in accordance with California's recent law update.
AMGtime will also be showcased their biometric hardware and mobile apps, both of which pair nicely with the aforementioned solutions. Mobile apps are ideal for on-the-go workers that may need to travel to homes or other facilities. Biometric hardware provides a quick and seamless way for employees to clock in. AMGtime's booth will exhibit the variety of data capture options available including fingerprint, facial recognition, and proximity cards.
2. Keynote Speakers
We can't wait to hear from these speakers:
Kenny Aronoff, influential drummer and author

Kenny will be discussing his journey to Rockstar-dom.

Craig Zablocki, motivational speaker

Get ready for some laughs and inspiration! Craig will be walking us through the steps of success.
3. Fun Activities
CAHF always organize a full agenda with fun activities, sessions, networking opportunities and so much more! This year there are some new additional activities added, we are excited for:
• Pop-Up Margarita Bar
• Photo booth
• Flamingo Booth
• Treasure Hunt
• Live entertainment
• Flamingo Lounge
• CAHFachino Café
4. Palm Springs
Every year CAHF is organized in Palm Springs, a popular vacation and retirement destination. If you have extra time before or after the event, we suggest exploring the area! Palm Springs have unique attractions you must see! The Aerial Tramway transports guests into the mountains for a breathtaking view. For art enthusiasts, we recommend the Palm Springs Art Museum. Stop by our booth for some pointers or to share some of your favorite spots!