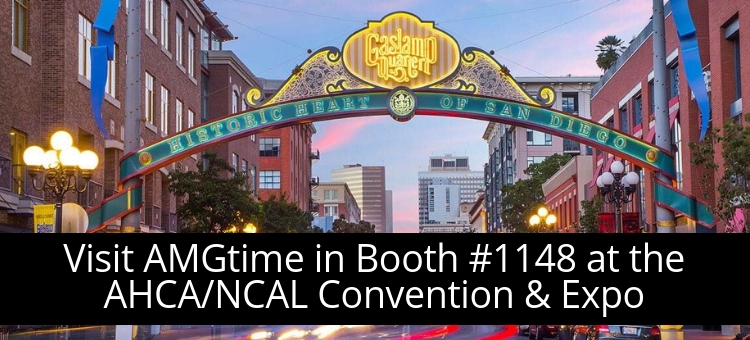 AMGtime is excited to participate in its first AHCA/NCAL Convention and Expo! This year AHCA is coming to our home state, San Diego, California. The AMGtime team is thrilled to meet and interact with everyone at booth #1148 on October 8th and 9th.
Here's why we are excited to attend AHCA:
1) Meeting New and Familiar Faces
The AHCA/NCAL Convention and Expo gathers healthcare professionals who are looking solutions to better manage their business. The convention will be filled with over hundreds of attendees and exhibitors, some new and some familiar, creating opportunities to connect with decision makers including regional Multifacility owners, Independent Owners, clinicians, compliance officers and more!
As we are preferred vendors of the Skilled Nursing Facility Industry, as well as CAHF members, we're looking forward to getting feedback from current clients on our product as well as prospective clients on their pain points. Our specialized solution automatically calculates the Nursing Hours Per Patient Day (NHPPD) ratio and generates reports according to PBJ specifications as well as many other relevant reports. We've recently added a section for Certified Nursing Assistant (CNA) hours calculation to meet certain state -shout out to California- requirements.
AMGtime believes in learning and staying up to date with industry news. We all need some motivation in our daily business lives – here are some dynamic spectacular speakers that will be at the conference:
• U.S. Astronaut & Retired U.S. Navy Captain Scott Kelly
• Personal Empowerment Motivator Dan Thurmon
• World Champion Adventure Racer, Author, Firefighter Robyn Benincasa
• Empowerment Expert Steven Taubman
3) Showcasing the latest and greatest at AMGtime
As mentioned, AMGtime has developed specialized solutions for Skilled Nursing Facilities. But, our products can expand to meet the needs of other healthcare vertical. We have facial recognition hardware, a favorite among many hospitals. It provides the ability to clock in hands free! We also have Workforce Scheduling to smartly automate shift schedules.
4) San Diego
Last but not least, the convention is hosted in the San Diego Convention Center, just minutes away from Seaport Village, Gaslamp Quarter, Petco Park and much more. This is perfect for exploring the city during your free time or grabbing a drink after the show! (Check out our personal favorite, the Hopping Pig!)
If you're attending, schedule a quick 15-minute demo to see AMGtime's capabilities. While you're there, enter our $100 Amazon Gift Card Giveaway!