The Import tool allows you to import employee schedules in 3 different formats. Templates for all three can be found at the bottom of this article. Schedules can be imported from Tools - Import.
Schedules Import (standard)
The first schedule import allows you to fill out start/stop times, and lunch/break rules for each day for employees. Here is a sample of the import, required fields have a * in the column header:
This format must be imported under Tools - Imports - Schedules Import. When importing, you will specify the rounding rules that will be applied to any newly created shift groups. It will create a NEW shift group and new shift for each different time, unless they have already been created.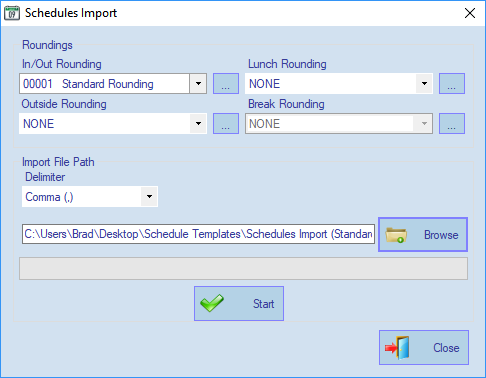 You will then select the file, which must be .csv or .txt and click Start.
Schedules Import (Advanced)
The advanced schedule import allows for a more flexible .xls file format. You will specify the employee by code and name and the start and stop time of their shift for each day in a separate column (up to 7 days). Here is a sample:

Access the import from Tools - Import - Schedules Import (Advanced). This will open a new window: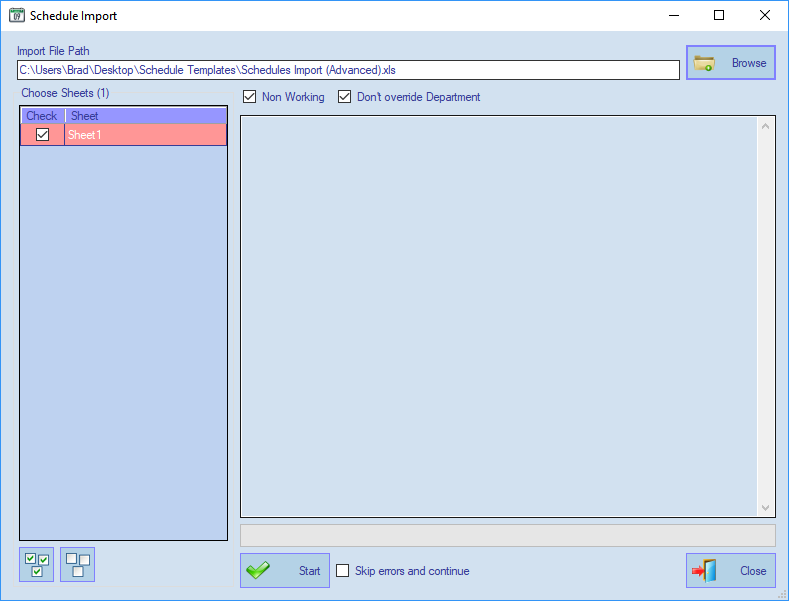 Click Browse in the upper right to select your .xls file. When it load you will be able to select which sheet(s) of the Excel workbook to use. At the top, you can choose to import all of the shifts as non-working days (so the employee won't count as absent) and Don't override Department, to leave the department the same. Click Start to begin the import. Any errors will appear in the main message box. You can check the Skip errors and continue box at the bottom and press Start again to try to import some of the schedules.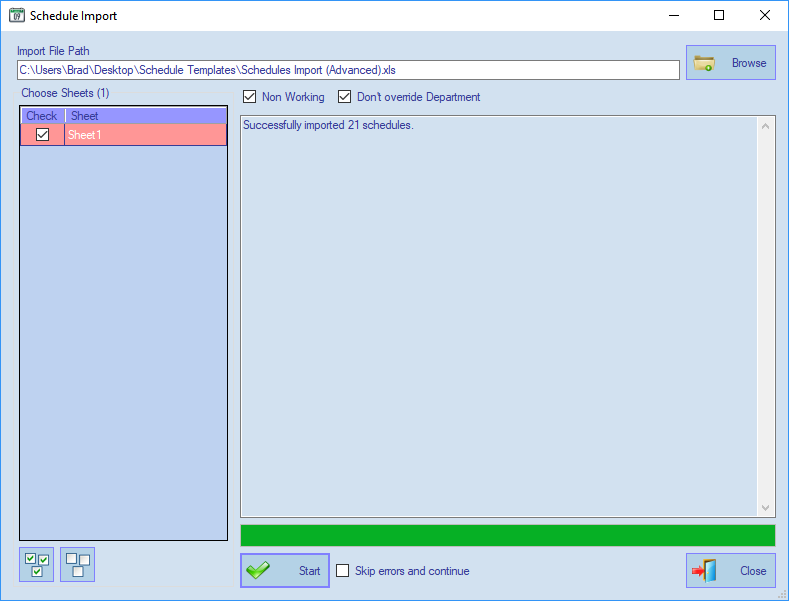 Schedules Import (with Departments/Jobs)
This import allows you to specify jobs and departments for each day in the employees' schedules. You must have the Job/Dept Costing module to use this import. Unlike previous imports, this reuqire you to use the exact code of the shift group and shift to schedule for the employee. If you want them to be scheduled for a specific job or department, you must also use the codes in those columns. Lastly, you can set if the shift is a floater or not.

This import can be accessed from Tools - Import - Schedules Import (with Departments/Jobs). Click Browse to select the file and click Start.