To create reports that run automatically on a specific schedule you will need to create an auto process.
1. Go to Tools - Auto Process and click Add to create a new process
2. Give the process a name and choose 'Generate and Save Report' as the Task Type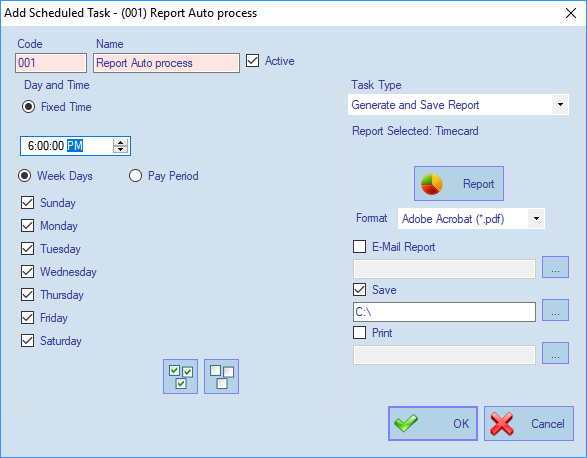 3. Click the Report button to select your report and choose the options for it. Click Next to select employees, dates and other options until you click the Finish button
4. When you finish selecting the report choose the format from the dropdown and then whether to save the report to your computer, email it, or print it.
NOTE: Before selecting email please make sure your SMTP (email) settings are configured in Tools - General Settings - SMTP
5. On the left hand select select the days and times you want to create the report.
6. When finished click OK and the process will begin.
NOTE: Make sure autoprocesses are running on the computer you created it from by cchecking the Active Autoprocess at the very bottom of the software. If it is not running click 'Start Service'