Getting back to business isn't going to be easy with the new normal. Most, if not all, companies will be in survival mode in more ways than one. Amongst the many challenges that businesses face today, the biggest one is ensuring that they reopen safely, ensuring that the workplace is safe for employees and customers.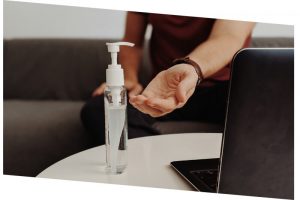 So, how does one keep employees and customers safe from COVID-19? Various state and local agencies have mandated certain policies and regulations that businesses should follow in order to ensure safety. The Center for Disease Control and Prevention (CDC) also has a list of guidelines to help companies ensure the safety of the public. For example, in Colorado, all businesses are required to check the temperature of their employees daily as well as monitor their employees for symptoms. Some states like Indiana are asking businesses to create and implement a COVID-19 response plan. Aside from health screenings, the CDC recommends social distancing and using disinfecting wipes to clean frequently touched surfaces.
What if there are no state or local mandates? Can employers still conduct daily on-site temperature checks as a condition of employment?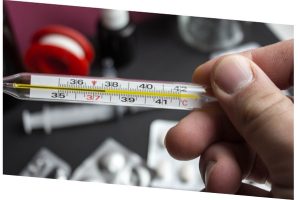 Whether or not your state or local government agency has provided mandates regarding the safety and health of the public, it is the moral obligation of the company to ensure that its employees and customers feel safe and protected, especially nowadays, when return to office anxiety is widely spread among employees. To do that, they must conduct temperature checks of their employees; although is this legal to do so? According to the Equal Employment Opportunity Commission, conducting daily temperature checks is permissible during this pandemic as long as it is done safely, consistently, and in a non-discriminatory manner. This means that companies should check the temperature of all employees without exception. This also applies to visitors entering the workplace.
What will the process of screening employees look like?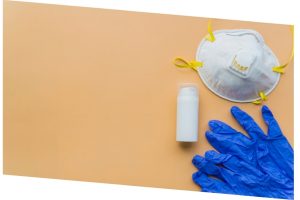 Screening employees can be accomplished using several methods. It is important that you use a method that protects the person who will be conducting the screening. This can be done by incorporating social distancing or utilizing a physical barrier that reduces or eliminates the employee's exposure to their colleagues during the screenings. In line with this, the CDC recommends that companies use disposable gloves as well as disposable or non-contact thermometers during the screening process. 
It is important to note that aside from health screenings, wearing proper protective equipment such as face masks is also highly advised. Of course, businesses cannot afford to become lax in their security which means that identifying employees wearing PPEs is a must while health screenings are being conducted. Fortunately, there's one device that can do all of these things – the AMG-FRX5.
What is the AMG-FRX5 Face, Palm, Body-Temperature, and Mask Detection Reader?
To assist businesses in implementing safety protocols in the workplace to help prevent the spread of the coronavirus, AMGtime released the AMG-FRX5. The AMG-FRX5 is a contactless face and palm verification terminal that reads body temperature. The device is also able to detect whether a person is wearing a face mask.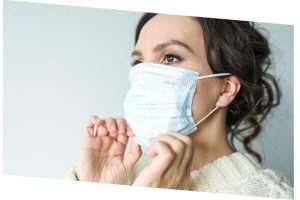 This contactless biometric time clock allows businesses to still implement their security protocols while incorporating health screenings to ensure the safety of all employees. It also eliminates single points of contact inside the workplace that could become a potential source of contamination. As an added bonus, the AMG-FRX5 makes it easy for companies to comply with the current policies and guidelines provided by state and local agencies as well as the CDC. 
The AMG-FRX5 can be used in various industries and businesses including factories, healthcare facilities, schools, warehouses, and commercial buildings. With this device and the AMGtime time and attendance tracking software, employers will be able to generate reports on the temperatures of their employees, send managers notifications about fevers, and receive real-time alerts on their mobile devices.
Benefits of Contactless AMG-FRX5 Face, Palm, Body-Temperature and Mask Detection Reader
Zero-touch Detection
The AMG-FRX5 provides businesses with zero-touch biometric authentication as well as temperature and mask detection. Because the device does not require contact in order to be used, it minimizes exposure to others. It also reduces the frequency of disinfection required. 
Multiple Verification Methods
The AMG-FRX5 allows you to verify the identity of an employee in several ways. Employees can be identified using their face, palm, fingerprint, and password.
CDC guidelines
Aside from allowing contactless health screening and identity verification, the AMG-FRX5 is designed to help you monitor the temperatures of your employees. It sends a real-time alert to the managers whenever it encounters a temperature reading of 100.4 degrees or higher, enabling them to send this person home to prevent the spread in the workplace. This allows the company to comply with CDC guidelines which state that employees who have COVID-19 symptoms such as fever (a measured temperature of 100.4°F or higher) need to be immediately sent home and consult with a medical professional.
How does this facial and palm recognition time clock facilitate the work of the Employer?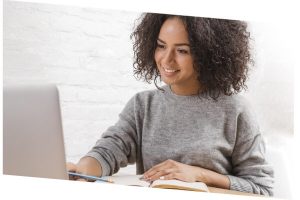 There's no question that a time clock allows employers to ensure that work gets done on schedule and helps you determine who got the job done. It also enables employers to make sure that the company is working at an efficient capacity at all times while providing employees flexibility, allowing them to take time off when they need to. And when you allow flexibility, you also boost your productivity. With a facial and palm recognition time clock, you're able to manage employee attendance as well as manage shifts efficiently and effectively without exposing your employees to COVID-19. 
Provide a Safer and Protected Workplace- AMG-FRX5 is a multifunctional time clock that keeps the workplace safe all around
Notifications 
Your managers don't need to constantly monitor the AMG-FRX5 in order to check the results of health screenings and authentications. They can configure the settings of the device so that they can receive notifications on their mobile (via an app) and/or through email.
Run Reports
Administrators are able to create various types of reports on the temperature readings. They can customize it to see the results of readings according to a certain group or level. They can also create a report that details multiple temperature readings of a specific employee. This is an ideal solution in some states where multiple temperature checks are required throughout the day.
Set Temperatures
The AMG-FRX5 allows administrators to set temperature limits which enable them to receive notifications whenever there is a temperature reading that hits that limit. The CDC recommends that people who have a temperature of 100.4 degrees or higher need to be sent home and monitored.
Alarm sounds
The device sounds an alarm whenever it detects an elevated temperature or when an individual is not wearing a protective mask.
Identification with face mask
The facial verification method of the AMG-FRX5 works even when an individual is wearing proper protective equipment such as a face mask.
Conclusion
We are not living in normal times. There is no 'business as usual after the pandemic and AMGtie offers a variety of time clock systems that are adopted for post-pandemic businesses. The way we work needs changing and companies need to go beyond crisis management in order to survive. Employees require more than just the usual safety standards in order to feel safe and protected. With the AMG-FRX5, companies are better able to move forward while ensuring that the health and safety of their staff and customers are never compromised.