Congratulations, you're now an adult! You're ready to be independent and moving on to the next steps in life. And part of adulting is getting a job. Unfortunately, finding one isn't so easy these days. And it's not just because there is a lot of competition as well as a lack of available, good-paying jobs. Students who want to work also have to deal with job scams, also known as recruitment fraud.  
Recruitment fraud is when scammers post or offer a fake job to those seeking employment to swindle people out of their money, steal their identity, or even use them for money laundering. According to the Better Business Bureau, around 14 million people get tricked by job scams with an estimated loss of more than $2 billion every year. And based on their study, individuals aged 18 to 24 are more likely to fall victim to a job scam than those ages 35 and older. Plenty of students needs a source of income and assistance for study and living expenses. Those who recently graduated are desperate to get a job and start paying off their student loans. Because of these reasons coupled with their inexperience, it's not difficult to see why students are being targeted by these scammers.
Here are the most common student job scams and all they should know to protect themselves from getting involved. 
Fake Jobs on Social Media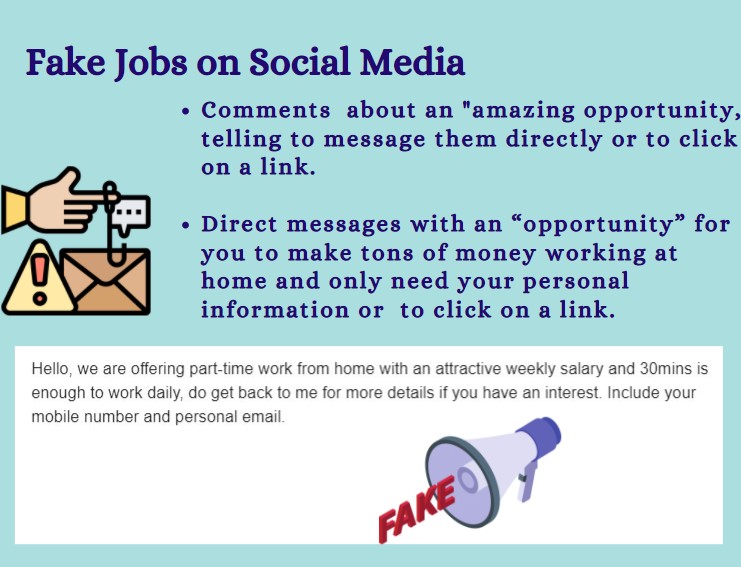 Everyone is on social media, so it's not really surprising that scammers are now using these platforms to find new victims. There are fake Facebook pages that post and promote "opportunities." Sometimes, you'll find recruitment fraud on legitimate pages, too. You probably also noticed that there are random comments in threads that talk about an "amazing opportunity." An opportunity that has nothing to do with the topic in the thread. The posters usually tell you to message them directly or to click on a link. 
There are also fake jobs on LinkedIn. Scammers create fake profiles and post their job listings in LinkedIn Groups. Even real people can be guilty of sharing fake jobs – they just don't know it.
Reshipping scams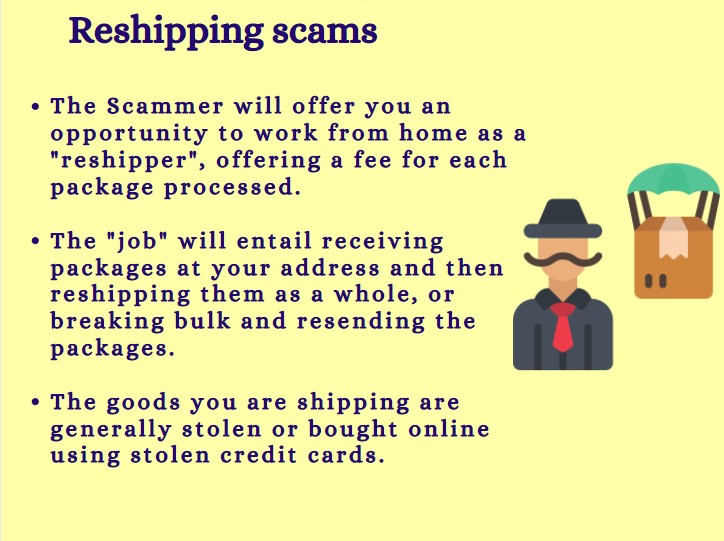 A reshipping scam is one of the most popular work-from-home opportunities you'll find offered online. The "job" involves getting paid to receive a package at home and reshipping it to another address, often outside of the US. It is important to note that there is no legitimate job that involves doing this. In fact, you'll be committing a crime if you get involved in a recruitment fraud such as this. The packages typically are filled with goods bought online using stolen credit cards. 
Some scammers will provide you with prepaid shipping labels so that you won't need to pay any fees upfront. However, there are others who will ask you to shell out money first for the shipping charges, promising to reimburse you by adding it to your paycheck. Unfortunately, the check might be fake which means you're out of some money AND you've committed a crime.
Money mule scams 
Money mules are individuals who transfer funds at someone else's direction, not knowing that they are laundering money. And the number of teenagers who are tricked into acting as money mules is rising – by 73% in the space of just two years. In fact, some of them are being victimized by influencers on social media. One such influencer on Instagram, Kayla Massa, was arrested and charged for scamming more than 45 of her followers and businesses out of at least $1.5 million. Most of their followers were under the age of 18.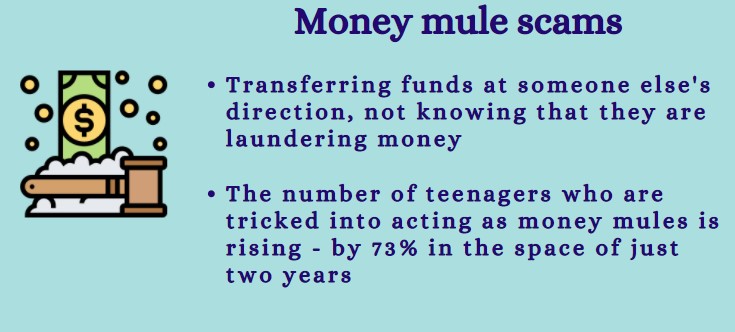 How does the scam work? Once the student agrees, the scammers will deposit money into the account. Then, they'll ask him/her to give part of the money (without their cut) to someone else through wire transfer, gift cards, cryptocurrency, or even cash. The checks and money orders are usually illegally obtained and/or counterfeit. And when the bank finds out the check is fake, the students might be asked to repay it. Worse, the students unknowingly become part of a large fraud network, resulting in them becoming charged with several criminal offenses such as fraud and money laundering. This can result in hefty fines and/or prison time. 
Career Consulting Scams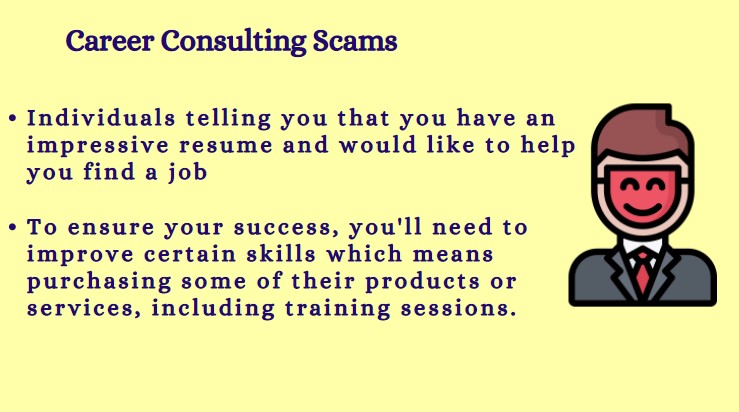 Sometimes, desperate times call for desperate measures. And that's exactly what some less-than-honorable career consultants are hoping for. These individuals are looking for people who are desperately in need of a job. They will tell you that you have an impressive resume and would like to help you find a job. But to ensure your success, you'll need to improve certain skills which means purchasing some of their products or services, including training sessions. While their job may be valid, getting you to buy their products and/or services before helping you get a job is still a scam.
Phishing Scams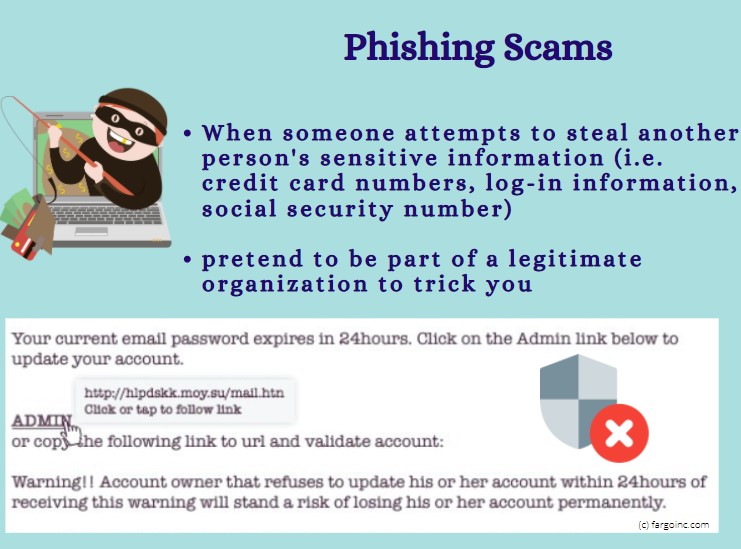 Phishing is when someone attempts to steal another person's sensitive information (i.e. credit card numbers, log-in information, social security number) through social engineering. This can be done over the phone or online. The scammers often pretend to be part of a legitimate organization to trick you into revealing sensitive data. 
There are several ways that they do this. You might receive an email telling you that they have an open position in their company that you are qualified for. To apply for the job, you're given a link that directs you to a form that requires your personal information. You might receive a call from a recruiter who wants to set up a time for an interview and asks you to provide certain information. Or, you might get hired first before your "employer" asks you to provide them with your bank details, social security number, passport, etc. 
Recognize and Avoid Job Scams
It's not always easy to discern whether a job is a recruitment fraud  or not, especially these days. This is why it's incredibly important that you are able to spot them before you get swindled out of your time or, worse, your hard-earned money.
Avoid
job offers that are "too good to be true."
If the job is too good to be true, then it probably is. While it is true that there are amazing job opportunities out there, you should always be cautious and make sure there aren't any red flags. For example, if the salary is way more than you normally earn and/or the position requires very little to no experience. Below are other instances of "too good to be true."
There's no need for an application or an interview.

You are asked to start immediately.

They contacted you, not the other way around. That's not to say that there may be times that the company will be legitimate. However, based on data gathered by BBB Scam Tracker, 80% of victims stated that the initial contact was made by the scammer either through social media or a job board. So, if this happens, do your research before scheduling the interview.
unprofessional emails with mistakes and without contact information.
This is not to say that all scammers will send you unprofessional emails. Some will be well-written. That being said, be wary of any emails you receive that have a lot of grammatical errors. A real company would hire people who write well. If you see errors in punctuation, capitalization, spelling, and word choice, chances are it might be from a scammer.
Moreover, if the email does not include the contact information of the employer such as their business address and phone number, it's another indication that they might be scamming you. Don't believe recruiters who contact you using a free email address like Yahoo, Gmail, and Live. Especially if they make excuses as to why they aren't able to use their work email. 
online interviews via messaging services
Again, in this day and age, it's not unusual to be interviewed online through an instant messaging service such as Skype, especially if you're a freelancer. That being said, there are a lot of scams that will do the same. So, it pays to always be cautious. If you are applying for an online job and told that you will be interviewed through an instant messaging service, make sure to do your due diligence first before agreeing. Research the company and its employees. Find out what the job entails. And never, ever give them any confidential information. If you're given instructions on how to contact the hiring manager that requires you to divulge sensitive information, then walk away.
agreeing to a background check unless you have met the employer in person.
It's not unusual for an employer to request a background check. After all, they also want to make sure that you are who you say you are. However, you need to be careful of when you should consent to one. If a potential employer is asking you to consent to a background check before conducting an interview and/or providing you with specific details about the company and the job, then it is possible that they're trying to find out personal information that they can use in their schemes. Wait until after you've met the hiring manager face-to-face and discussed specifics before providing your consent.
providing confidential information 
Some scammers will ask for your bank account information so that they can deposit your salary directly into your account. Some will ask you to open a new account and give them the information. Others may even ask you to fill out a form that asks for sensitive information in order for them to be able to add you to the company's health insurance policy. Unfortunately, doing any of these things can result in identity theft. 
If you do need to enter personal information online, always check to see if the website is secure. The URL of the website must start with "HTTPS://", not "HTTP://".
taking cashier's checks or money orders as a form of payment.
This is because fake checks are common. And if the bank finds out that the check is fake when you try to cash it or deposit it into your account, then you'll be held accountable.
being expected to pay for something. 
No legitimate company will ask you for money. If you're asked to send them money – for software or training sessions or to pay for a credit report –  then you are being scammed.  
Always
Don't take anyone's word for it. If too much money is being offered for too little work or you're already getting offered a job, there's something hinky going on.
Since you're skeptical, you should take the time to find out what's what. This means doing your research and checking out the company's website. Are there testimonials from clients? What information can you find about the company and its employees online? Check their social media accounts, online reviews, and even their Better Business Bureau rating. Don't forget to look at what job openings are listed on their career page and LinkedIn profile.
It's harder to lie to you face-to-face. So, if possible, don't conduct all of your communication online via email or messages. It'll be easier to determine their intentions, especially if you're able to meet them at their office.
Even if you do your research, you'll come up against some scammers who are clever and thorough in setting up their scheme. If at any point you start to have doubts, you should trust your gut. Ask questions and take note of their answers. Don't feel pressured to make a commitment. More importantly, don't provide them with personal information until you're sure. 
If You Get Involved 
As we've already mentioned, it's not always easy to distinguish between an actual opportunity and a job scam. So, it isn't out of the realm of possibilities that you might get caught up in one. If this happens, it's important that you close out your accounts that may have been compromised such as your bank account and credit cards. Don't forget to inform your bank and/or the credit card company about what happened.
If you transferred money, bought a gift card, or sent a wire transfer, contact the company involved and ask if they could reverse the transaction and give you your money back. If you gave your Social Security number, visit IdentityTheft.gov to learn what steps you need to take.  In addition, make sure that you get a copy of your credit report to monitor your credit. And if you provided the scammer with your username and password, change them immediately.
Scam Alert and Reporting
Once you've handled your financials and other important information, you should report the scam to the Federal Trade Commission. You can file a complaint with them online. They've got a video that can teach you how to do it.  You should also report the scammer to the Better Business Bureau as well as the Internet Crime Complaint Center (IC3). If the job is listed on a website like Indeed or Monster, be sure to report them there too. And if the scammer has a website, you can report them to Google too. 
Early detection is key to avoiding getting caught up in a recruitment fraud . You can stay up-to-date on scams that are happening lately by visiting the scam alerts set up by the FTC. 
Conclusion 
There's no such thing as easy money. Or a job that pays more than what you're qualified for. Think twice before jumping at a job offer you never applied for. And always keep your confidential information to yourself. The rising trend of work-from-home jobs is a good thing. But it has also enabled scammers more opportunities to swindle people out of their hard-earned money. So, be cautious and good luck!
Download Infographics here: