AMG allows you to configure multiple users with different roles to be able to login and access information in AMG. The number of concurrent users (people logged in at the same time) is limited by your license.
In the main menu under Users we will see these options: Configure, Roles, Active Users, Time Off Approval, and Notification Settings.
Active Users shows which users are currently logged in.
Time Off Approval allows you to configure multiple approval levels and which users can approve for time off requests from employees.
Notification Settings will show the types of notifications being sent to both users and employees with the ability to configure how you will be receiving those notifications, via Mobile app or Email, as well as configuring which notifications you will receive.
To begin creating a user, you first need to configure a role for that user. To configure roles, click on Users - Roles. You can add roles or edit existing ones.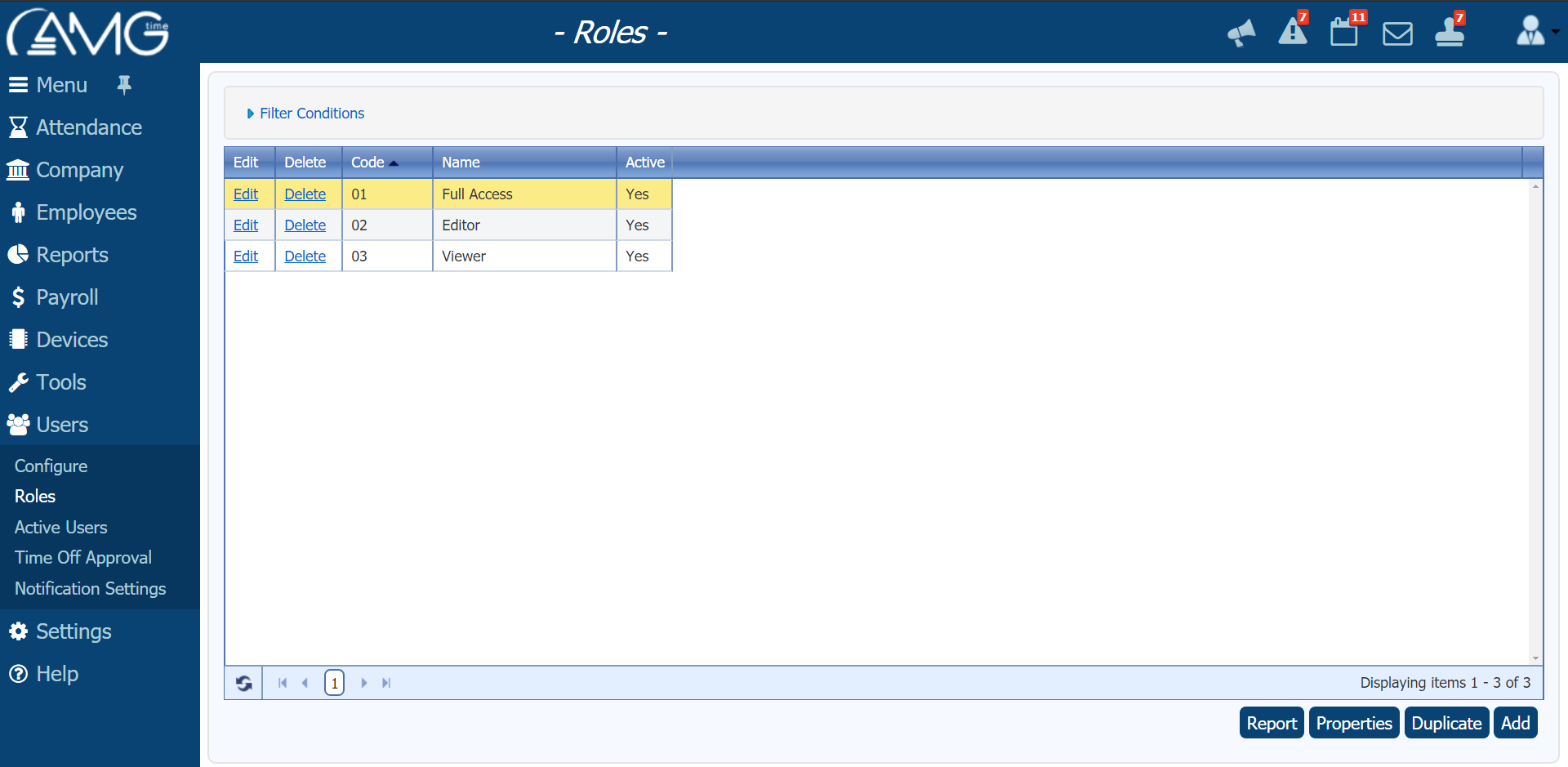 Found within the role configuration, you will notice these tabs:
Global Permissions – This is where we configure the permissions, such as what the user can view, add, edit or delete. You will see a list of features which corresponding checkmarks for what you want the user to be able to do. Checking the boxes at the top will check that action for every feature in the software.
Report Permissions – This is where you will configure what reports the user will have access to and see. Selecting Can View at the top will allow the user to run all reports.
Payroll Permissions – This will list all the payrolls we offer exports for, therefore unchecking all will not allow the user to generate a payroll export. Selecting Can View at the top will allow the user to run all payroll.
Employee – This tab will show sensitive information such as employee's SSN, Contacts, any attached files you have for their employee profile, along with wage. You can check which of these you'd like the user to have access too.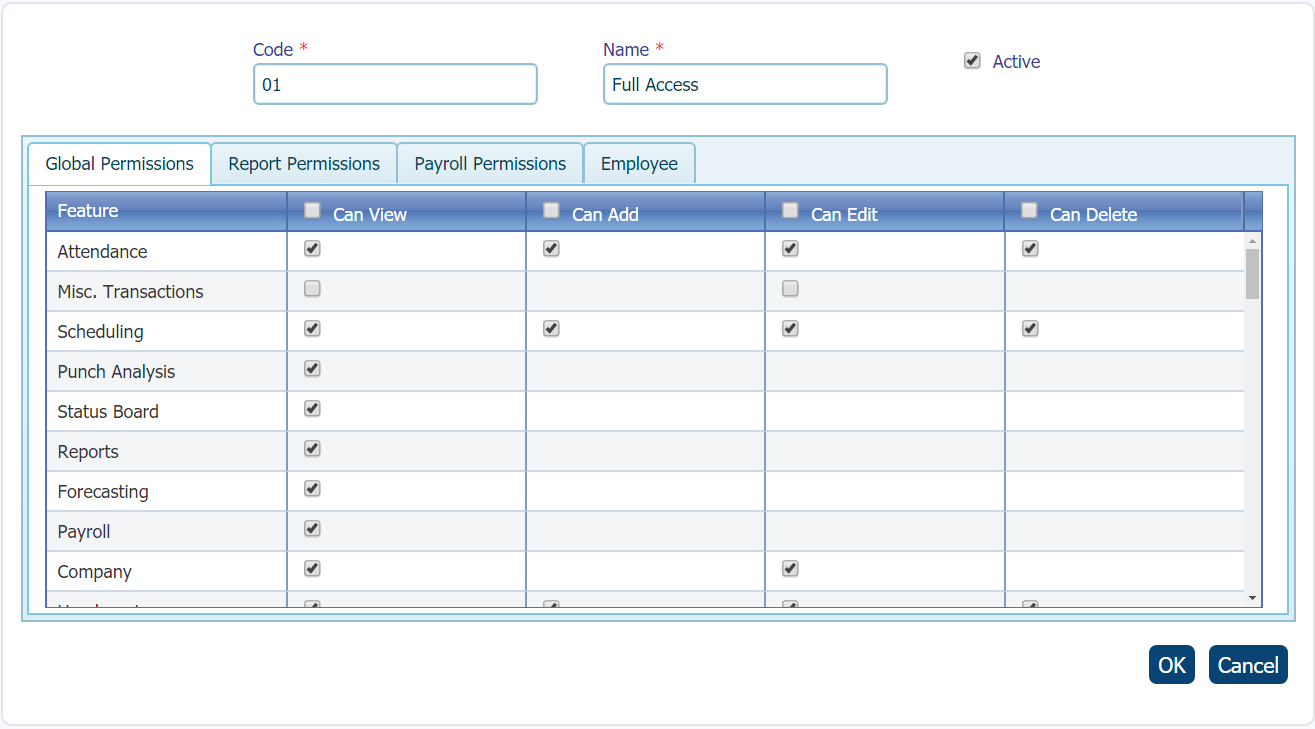 After configuring these tabs within the role, it is now time to assign this to the user we would like to create. Go to Users- Configure and click add to add a new user. You will have to enter the user's e-mail address here. They will then be sent an email to verify and set up a password. Everything with a red asterisk is required, the other fields are optional. You will see these additional options and fields within the General tab:
User Profile Picture - At the top you can add a profile picture for the user.
Role - This is where you will choose the role you configured for the corresponding user.
Interface Language - This will be the language the user will see when logged in.
Can add/edit Banked Hours transaction - If you have the Banked Hours Module on your license, you can give each user access to add banked hours manually.
Can approve timecard - when checked the user can approve timecards.
Can punch for employees - when checked the user can punch for employees on the mobile app.
Always Ask Login Type - If you have the Employee Login Module on your license, you can link users to employees. Then this checkbox will prompt the user to login as a user or an employee each time they login.
Inactivity Timeout – This will be a field where you will configure the amount of time, in minutes, you want the user to be automatically logged out from the website if not active.
Choose Home Screen Style - Allows you to choose between Classic and Modern style for the AMG home screen widgets.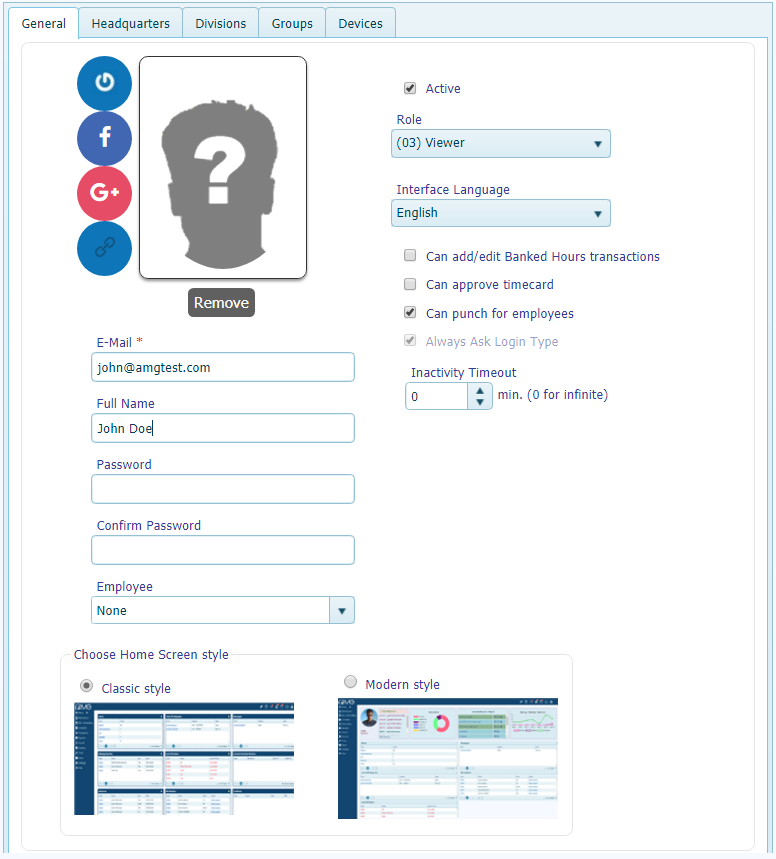 You will also see Headquarters/Divisions/Groups/Devices as tabs above. These tabs are for assigning the user certain rights to view the different organization groups. This is mainly used to assign supervisors to their own headquarter/division/group/device. The user will only be able to see the information and employees within (for example, if we create a user with access to one specific group, the user will only see the employees that belong to that group).
Note: If a user should have access to all information be sure to check the All Headquarters/Divisions/Groups/Devices button at the bottom of each associated tab.