The client software can be installed on multiple computers, all connecting to the server portion of the software.
If reinstalling, make sure you uninstall AMG Attendance System through your Windows Control Panel.
If you are running a software version before 2.1, make sure to also delete the folder the client software was installed to before reinstalling. (The folder is typically here: C:\Program Files (x86)\AMGtime\AMG Attendance System).
From the software USB stick or download link originally provided at time of purchase, open the Client folder, right click the file titled "Setup" and select Run as Administrator.
Install the client portion of the software by following the setup wizard.
After the Client portion is installed, ensure the program is running as admin (this can be usually done by right clicking the desktop icon => properties => compatibility => check run as admin).
Open the AMG Attendance program. You should be prompted with a Choose Server screen.
If the server is not installed on the same computer, uncheck 'Local Computer' and then click the dropdown arrow. It will load a list of computers on your network, then select the computer with AMG Server. You may also manually enter the server computer's IP address.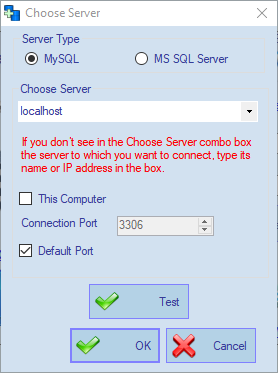 Click Test to make sure you can connect to the AMG Server.
If the test succeeds, you are ready to login and use the software.