Here are the steps to connect an Elionic timeclock to the AMG Attendance System (Client/Server), to be able to use the Self-Service function of the device and enable push transactions. First make sure your device is setup in the software and has the correct IP address configured.
In the Software:
Click on the Devices - Configure Devices
Select desired device. Double click on the device or click on the Edit button.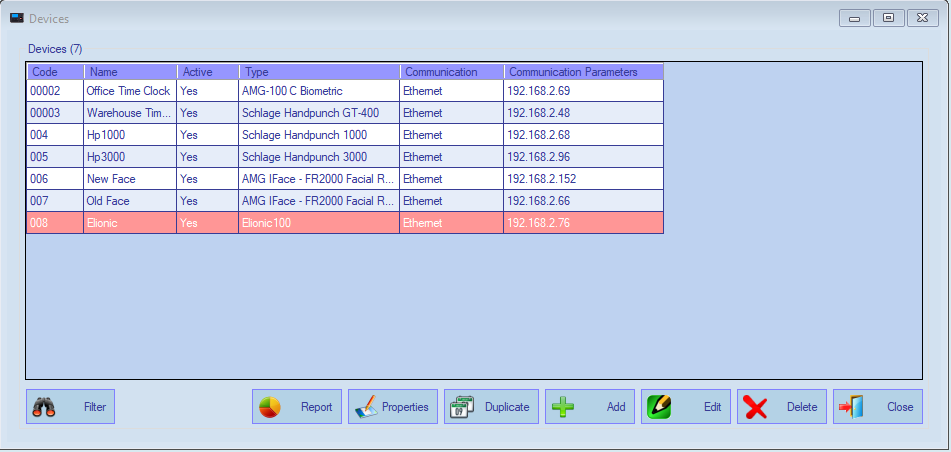 3. Click on the Advanced tab in the edit device screen.
4. Check off Enable Self Service towards bottom of screen and click Ok.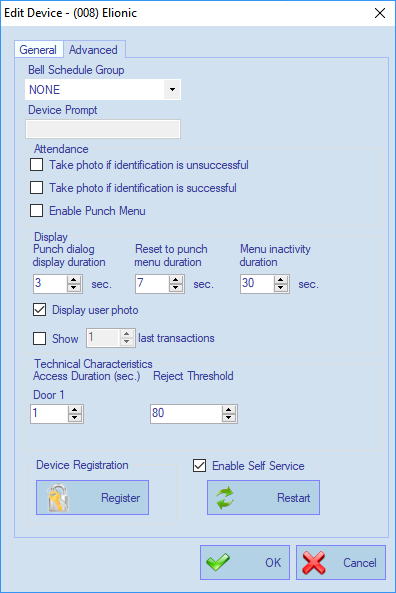 5. You will be prompted to Synchronize changes with Device, click YES.
On the Device:
Go into the main menu by selecting the 3 dotted button towards the top of the screen. (If you have an admin lock, then scan your finger)

Select Network, then Web Server.

Touch the 'Enable Push mode' button so it says 'Yes'.

Under Host Name/IP Address enter the local IP address of the computer with the AMG client installation.

Under Port Number enter the port # 3003

Restart device (hold down power button on left side of device) and press Ok on the prompt.
Once the device powers back up you should see the Self Service option on the top right of the screen. As soon as you press on Self Service it will ask for the employee's fingerprint.
Through Self Service the employee will have access to see their last punches, worked hours, schedule, and benefits. They can also see or make time off requests.