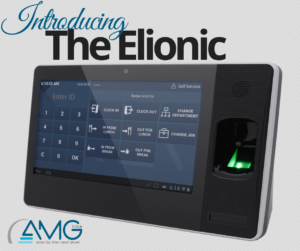 If you didn't already know, AMGtime configured the perfect device for you to track employee's attendance status and records. Why should you upgrade? The Elionic fingerprint reader is ready to use right out of the box with no additional setup! All you need to do is connect the device to AMGtime's client or cloud software and you're all set! It is WIFI enabled and web-ready making data synchronization seamless and effortless.
With the easy-to-use touchscreen tablet, employees can navigate existing lists of jobs and departments, as well as use the self-service option to check their time cards, schedules, benefits, request time-off and more. This lightens the administrative duties of managing employee's time and attendance.
In addition to biometric fingerprint verification, employees can also transact using a proximity/ID card, or PIN/password. Administrators can include a selfie requirement during transaction to add an additional layer of authentication when punching. The Elionic will save you time and money!
To learn more about the Elionic, read our press release here.