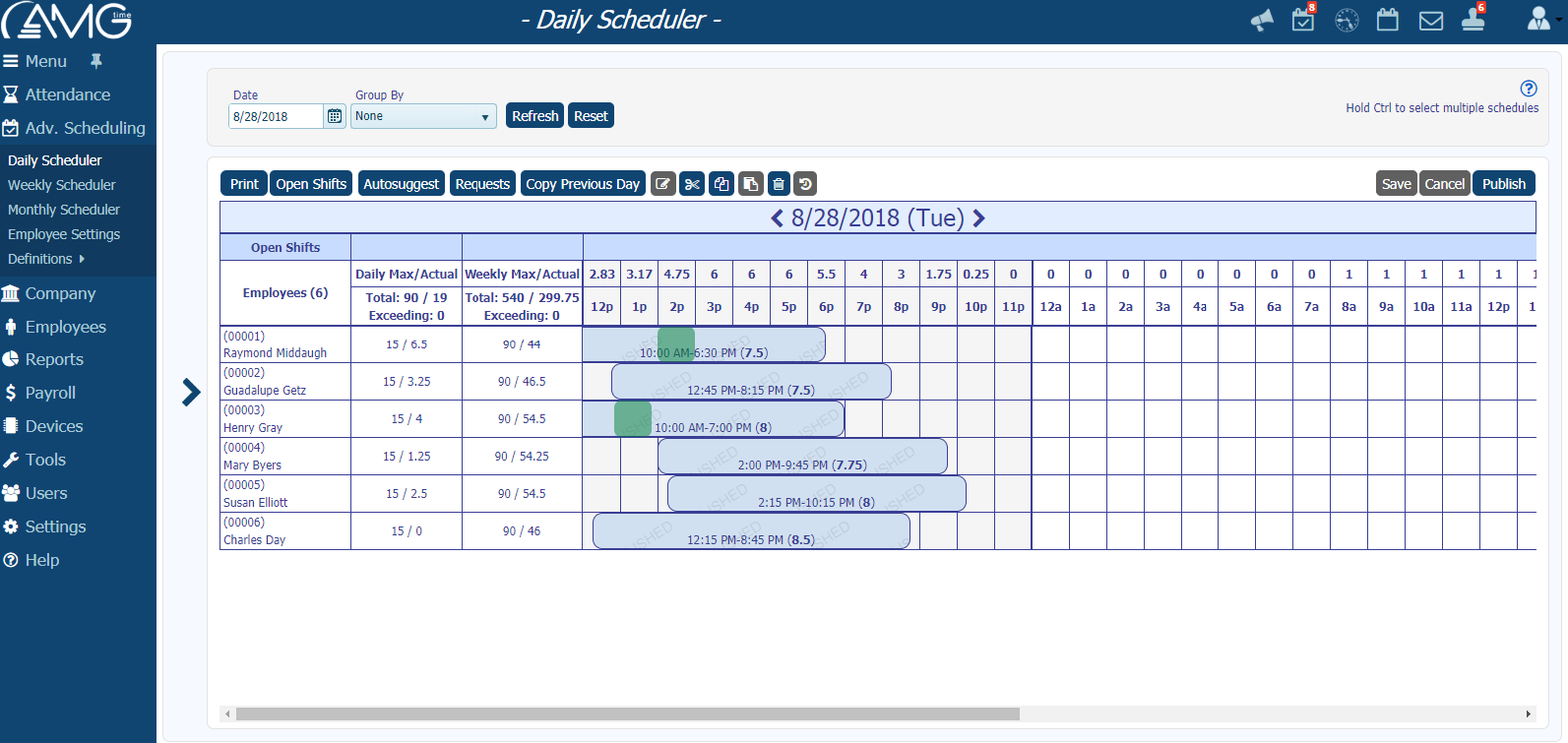 Exciting news for all employers! AMGtime recently made new developments to its Advanced Workforce Scheduling. If your business requires ever-changing daily schedules, then this solution is for you. Gas stations, restaurants, and retail stores are a few operations that are constantly changing their schedules to fit employee's availability and shifts needed for the day. That is why we made scheduling an even easier task for you to handle!
Within this simplified view of the Advanced Scheduling module, administrator can effortlessly modify work hours, lunch and breaks without creating shift groups. Simply drag or drop the shift to make quick adjustments. If that wasn't convincing enough, the simplified scheduling feature can autosuggest qualifying employees for open shifts.
"I think it's great that this feature provides flexibility with scheduling", says our Technical Support Specialist, Brett Johnson. His clients can now create individualized schedules with ease and print schedules for employees to view working hours, breaks and lunch.
The daily view is just one capability included with the robust Advanced Workforce Scheduling module. AMGtime created Workforce Scheduling with employers in mind to assist in reducing labor costs and eliminating compliance risk. Employees can alleviate the stress of scheduling by setting availabilities and preferences. If allowed by employer/manager, employers can drop, swap or pick-up shifts with qualifying employees who meet training, skill and certification requirements. The auto-scheduling function generates schedules for you by zeroing in on the "Best Candidate" for the job. All changes and requests can be monitored on the customizable dashboard. Scheduling never looked so good.
Visit our website for more information: amgtime.com/workforce-scheduling