For an employee to have access to the Advanced Scheduling module the Admin should first go to the employee Accesses screen and verify employee login is enabled. Next, verify Scheduling is checked off for the employee to have access to. Refer to the User Guide for Advanced Settings. The employee login module must be included for employees to have access.
General Capabilities:
Manage Schedule/Hours
Request Open Shift
Drop shifts
Swap shifts
Configure preferences
Manage Schedule/Hours
The employees have access to their schedules in multiple views. Daily, Weekly, and monthly. On each screen, the employee can see the scheduled start and stop times along with the totals of hours and days assigned. Depending on the access granted they may also have access to view their coworkers as well.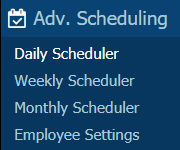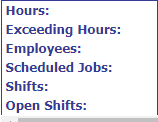 Request Open Shift
Open shifts created by the Users will appear at the top of each screen above the schedules.

The employee can select the shift to view the details and opt to Pickup.

After selecting the Pickup option the selected date will change to being a Draft. The shift will also be added to the Requests tab which can be used to view and cancel the request.

Drop shifts
Before a shift is published the employee has the option to drop the shift. To do so on any of the Advanced Scheduling screens the employee needs to select the desired day to drop. This will then highlight the drop button found at the top left of the schedule. Once the drop is submitted it will be added onto the Request tab as a request to drop.

Swap Shifts
Before the shift is published the employee has the option to swap the shift. The employee can only swap with another unpublished shift.
To swap employee must:
Select the shift desired to swap
Hold down the Ctrl key on the keyboard.
Select the coworkers' shift which is desired to swap with.
This will highlight the swap button. Press Swap.
Submitting the swap will add it as a request.

Configure preferences
The Employee Settings tab will give the employee the option to set up their shift preferences. The employee can select the colors at the top left of the screen and drag and drop to the selected time and day. The employee can select a Set Interval to specify the amount of time applying. The edges can be dragged to extend the period. At the top of the screen, the employee can select a period for these preferences to repeated.