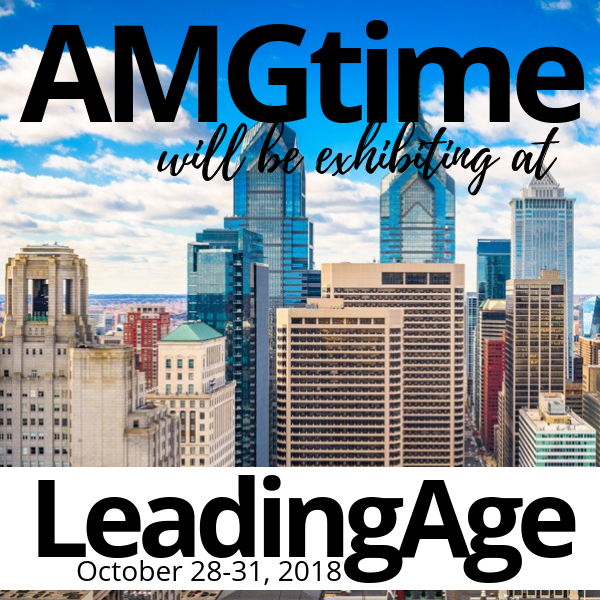 AMGtime is heading to Philadelphia for LeadingAge 2018! From October 29-31, AMGtime will be taking over booth 1940 to present time, labor management, and scheduling solutions.
Here's what we are excited for:
1. Showcasing AMGtime's Innovative Solutions
AMGtime has developed a specialized solution for Skilled Nursing Facilities. The Skilled Nursing Facility module can be layered on to our time and attendance software to automatically calculate the Nursing Hours Per Patient Day (NHPPD) ratio, generate reports according to PBJ specifications, as well as many other relevant reports. Our solution even monitors Certified Nursing Assistant (CNA) hours within NHPPD, a requirement for certain states like California. Job Costing, Workforce Scheduling, and mobile apps are also incredible add-on solutions that'll make labor management in Skilled Nursing Facilities far more efficient.
Aside from scalable software, AMGtime will be showcasing their robust biometric hardware that includes a variety of data capture options including facial recognition – a popular option for sterile environments like Skilled Nursing Facilities.
2. Keynote Speakers
LeadingAge offers a long list of educational speakers covering various topics, but two keynote speakers will be leading the show:
• Annie Leibovitz, world-renowned photographer.
o A true legend among the living, Annie Leibovitz will be giving a talk about "Capturing the Beauty of Aging" on Tuesday, October 30th, 10am – noon.
• Frances Frei, Professor at Harvard Business School, and former Uber Senior VP of Leadership and Strategy
o Known for her innovative strategy, Frances Frei will be discussing the importance of aging service providers adopting a trust-based culture for a more diverse and effective organizational workflow on October 28th, 1-3pm.
3. Philadelphia
Last but certainly not least, we're excited for Philadelphia! As the sixth largest city in the United States, Philadelphia offers many old and new attractions, museums, restaurants and so on. Whether it's grabbing a cheesesteak from Dalessandro's (just don't call it a Philly cheesesteak) or seeing a piece of history in Liberty Bell, we can't wait to explore this dynamic city.
If you're attending, schedule a quick 15-minute demo to see AMGtime's capabilities. While you're there, enter our $100 Amazon Gift Card Giveaway!